Your Next Move – North Ayrshire
Thinking about your next move?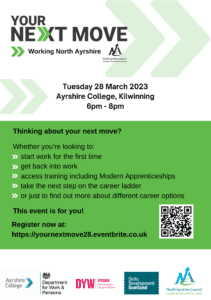 Local employers will be available on the night to talk about opportunities available in their company and sector as well as an opportunity to speak to further and higher education providers. This is a great opportunity for young people considering their subject options as well as those planning to leave school/college this year.
This will be a free event held at Ayrshire College, Kilwinning on Tuesday 28th March from 6pm – 8pm.
If you're a young person, parent/carer or teacher looking to attend, please sign up
here.
If you're an employer looking to take a stand, please contact Gillian here:
[email protected]