South Ayrshire Futures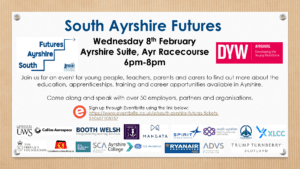 DYW Ayrshire in partnership with South Ayrshire Council held an event, South Ayrshire Futures on Wednesday 8th February 6pm to 8pm.
This event will brought together pupils and parents/carers from across South Ayrshire to meet with the wide variety of employers and sectors in their local area.
This was a great opportunity for young people and their parents/carers to speak directly to local companies about their career opportunities.
The venue was Ayr Racecourse.
This was setup as a typical careers fair style with employers taking a stand.
We had around 50 businesses in attendance and around 800 delegates come on the night which included a mixture of teachers, parents/carers and young people who were able to meet different employers and learn more about the world of work.
DYW Ayrshire would like to give a huge thanks to every single person who attended this event!