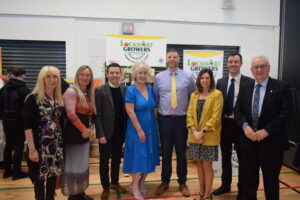 DYW Ayrshire were invited to Lockhart Campus on Friday, 22nd April to celebrate the launch of three of their Innovative School Projects; Beekeeping, Horticulture and Barista.
In attendance was also the parents/carers of pupils, DYW Ayrshire Chair and Walter Smith. Together, we were all welcomed to the launch by John Herd, Lockhart Campus DHT, who gave us an introduction and showed us how the projects have benefit pupils within the school. We then received a speech from DYW Ayrshire Chair, Lorna Gibson, before hearing from the pupils themselves. The pupils talked us through the projects with a presentation showing the work they've been doing with these projects.
The official opening then took place with a ribbon cutting before we received performances from the pupils in the choir who sang Tomorrow – Annie, What makes you beautiful – One Direction, This is me – The Greatest Showman and a solo of This is the Life by pupil Leon Doyle.
The pupils involved in the Beekeeping Project were able to create handmade soap and candles to sell as well as jars of honey. We were also kindly offered honey samples on this day. Hot drinks and biscuits were provided from the Barista and the pupils gave a tour of their Horticulture garden and showcased the work they have been doing and plan to do in the near future. With this project, they had created bird houses, different plants and other garden decorations to sell.
This was a very successful project launch. Well done to everyone on their hard work on each of these projects and those involved on this fantastic day!